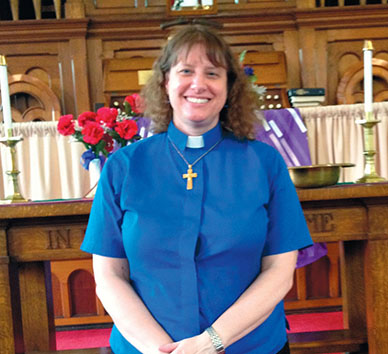 First of all, I want to acknowledge the faithful and loving work that Pastor's Tee and Paul have done over the years. I know that you all have a lot of sadness about their leaving and that you will miss their care of you. We must continue to pray for them in their new endeavors and hope that in the future they will be able to visit us when we have events.
Now, about myself as a minister. First of all, please call me Pastor Peg. If you've had a chance to read my biography you know that I'm from New York state, but I've spent a lot of time in other parts of the U.S. and lived in Japan for a while. This has given me a broad way of thinking about how things can be done, and I've learned that working with people is more rewarding when it's a team effort rather than just by myself. As a minister I believe that Jesus' church belongs to all of us, the pastor and the congregation. It's always best when we work together to make things happen.
My experiences of living in new places among new people has also taught me that there's always something new to be tried out. When someone says, "But we've never done it that way before," I like to say, "Great! Let's try it and see if we'll like it or if it works. If we don't like it, or it doesn't work, we don't have to do it again." Also, I like to hear ideas from everyone. The best ideas for my former churches have come from my parishioners. And my ideas have always been improved on when my parishioners have helped to round them out. I love it when we can all work together to come up with something new or revitalize something established and make it more relevant for everyone. So, I ask for your open mindedness when I or you come up with a seemingly crazy idea. Let's hear it out and see if we can have fun with it and make it work.
I guess you should also know that I love the following: Beading and jewelry making, sewing, knitting and crocheting, taking walks (I'm really looking forward to the prayer walks) cooking and baking (I'm so glad bake sales are coming back after COVID) checking out thrift stores and tag sales (I can't wait to help out at Angel's Attic) gardening (look for some new plants in and around the churches) history, movies and concerts, teaching Bible studies (What haven't you studied that you want to?) children's sermons and VBS, crafting stuff with kids and adults, outdoor and indoor worship, and a whole bunch of stuff I don't have time to mention.
I'm looking forward to meeting you all and getting to know the wider community. See you all on July 2.
914-584-5221